José Avillez, holder of two Michelin stars and leading figure in the world of gastronomy, has no doubts that Portuguese cuisine is one of the best in the world. In this interview, he talks about Bairro do Avillez, a space that brings together different restaurant concepts inspired by the best Portuguese flavours.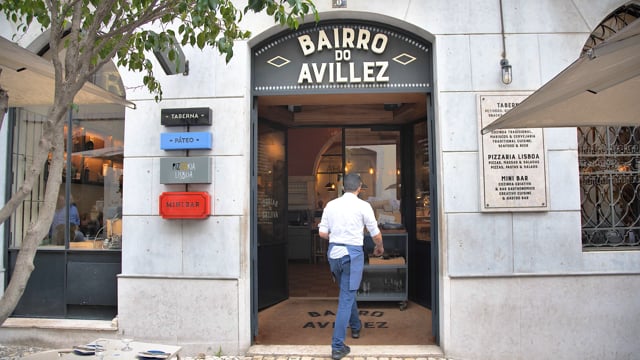 José Avillez is passionate about gastronomy and Portugal. His restaurants are a must for anyone who wants to enjoy an unforgettable dining experience. In the heart of Lisbon's Chiado district is Bairro do Avillez, a venue that offers four unique gastronomic experiences.


Bairro do Avillez: different restaurants, always the best flavours
Bairro do Avillez is a 1200-square-metre complex of architectural beauty that combines a variety of concepts, allowing people to try different dishes in different environments.
For example, you can have lunch at the Pizzaria Lisboa or the Taberna, dessert at Páteo and a drink at the Mini Bar. The cuisine is creative with Portuguese roots and has been influenced by the chef's many travels. In this space, which once belonged to the former Convent of the Holy Trinity, you can feel the Portuguese essence of a Lisbon neighbourhood.
Bairro do Avillez opened its doors in August 2016. For the chef, this project was "kind of crazy" at the time, as tourism "was completely different to what we have today". Although this was "quite a risky option, it was a winning one", he reveals, and adds, "every time I come in here, several times a week, and see it full, I get a special feeling in my heart. We serve 1000 meals a day, which is crazy".

The chef's favourite dishes
What dishes does José Avillez recommend you should try at the Bairro? The chef's choices are cod à brás (salt cod, potatoes, onions and eggs), which he loves, and arroz de carabineiro (red shrimp rice), from Páteo.

At Mini Bar, he suggests the tuna cone and the passion fruit, a foamy ice cream perfect for dessert.

At the Taberna, in turn, he recommends "the portugueseinhas, which are a kind of Portuguese-style stew pie, or the alfacinhas, which are heart-shaped lettuce cups with pieces of tempura fried cod and shoestring potatoes".

Besides good food, Bairro do Avillez also guarantees fun and entertainment on Fridays and Saturdays at the Mini Bar, where there are always DJs, shows and live music.

The chef: a passion for cooking on every project
It was in 2011 that he opened his first restaurant, O Cantinho do Avillez. Belcanto followed the next year, and since then he has always continued to work on different and world-class projects, with the aim of reaching more and more people.

Belcanto, awarded with two Michelin stars, is considered one of the 50 best restaurants in the world according to the prestigious list "The World's 50 Best Restaurants", produced by the British company William Reed Business Media. The type of cooking that is done at Belcanto, for example, "is for people to eat once in a while, because nobody eats haute cuisine every day, or every week".

All these different restaurant concepts mean that the same person can go to Belcanto and then try Cantinhos or Bairro do Avillez. For example, at Bairro's Mini Bar, a fun and sensual place, you can enjoy small portions of food and chat at the same time. "These different concepts exist because there are very different occasions for eating out," he clarifies.

José Avillez's entrepreneurial spirit is visible in the various restaurants he has in Lisbon and Porto, and also in Dubai, where he opened his first international restaurant: Tasca by José Avillez, which won a Michelin star in the first edition held in that city.

Each restaurant has its own concept, but all express the chef's passion for cooking.


The secret behind the success
According to José Avillez, guaranteeing the success of all the restaurants with his signature is only possible with a good team, a lot of discipline, respect for the customer and sometimes almost unhealthy perfectionism and persistence, because that means constant restlessness. All this, "combined with some luck", is the key to the success of his projects.

As for the success of national cuisine, the chef believes that Portugal is already recognised internationally. In his opinion, the only thing missing is investment, unlike other countries like Spain, for example, where the Michelin Guide or Fifty Best galas are held on a regular basis. These events "bring in people from all over the world, from the world of cuisine, who write and talk about gastronomy and elevate restaurants to higher positions in the rankings and make more people travel".

The chef has no doubts that "Portugal has quality restaurants, quality products and quality professionals". The only thing missing is "investment to bring these major international events to the country. There is really good work being done in terms of tourism, which has greatly increased tourist numbers in Portugal. Still, we lack that international recognition gained through these great events, particularly in the world of gastronomy", he explains.

Portugal: a world-class foodie destination
From sea and land come the finest ingredients, such as fish, shellfish, Alentejo pork (which he considers "one of the best meats in the world"), lamb or mutton, the different breeds of cows and all the vegetables that are huge in range thanks to the Portuguese climate and the different seasons of the year.

In addition to the quality, freshness and variety of Portuguese ingredients, José Avillez also believes that Portugal's history has greatly contributed to the richness of the country's gastronomy: "we had an Arab invasion and the influences are still present. Along our travels, we also ended up bringing small things home from various parts of the world".

Coriander is one such example, "we are one of the few countries in Europe to use it, and this goes back to that Arab influence". The many spices we use in sweet and savoury dishes are also characteristic of Portuguese cuisine, making us "different from most European countries", and this is related to culinary influences from "North Africa, Latin America and Asia". It is these influences, "combined with the great ingredients and products we have, that make us so unique", he explains.
On the one hand, Portuguese gastronomy reflects the influences of other cultures, but our influence is also visible in the cuisine of some countries. José Avillez says that we can be in Malaysia, or some other country, and suddenly see something and think, "this is Portuguese". It is also believed that we were the ones to take curries from India to Thailand, and we know that "Portugal even took tempura to Japan", he says.
Portuguese gastronomy and its various regional cuisines
In addition to all the culinary influences, which have definitely enriched the national gastronomy, there are a few specific features that make Portuguese cuisine unique in the world.

The chef explains: "not many countries use white rice as a side to the main dish". Normally, rice is the basis of the dish, but in Portugal you will find white rice as an accompaniment to protein.

The chef also believes that "even though Portugal is a very small country, we have very different cuisines across the various regions, which makes the country very interesting, especially for tourists who, for example, visit Lisbon and, suddenly, drive an hour north or south and find a very different style of food. This is perhaps one of our greatest assets - there isn't one Portuguese cuisine: there are many regional cuisines", he adds.

Eating well is one of the many reasons to return to Portugal 
Innovative, creative and with "some obsession to always do better", Chef José Avillez agrees that "Portugal is trending" and that "one of the great reasons that motivates people to visit Portugal is Portuguese cuisine.

"I hear, on a weekly basis, people saying they booked their honeymoon in Portugal because they wanted to come to Belcanto". Therefore, "it's very important to realise that even if those people, who don't travel for the cuisine, eat well, they will come back sooner".

There is a lot of talk about religious tourism, surf tourism, golf tourism, but we forget that "all these people need to eat breakfast, lunch and dinner, if not more. And if it's good, maybe next time they'll return to the place where they ate well". For all these reasons, he believes that "gastronomy is as fundamental as our need to eat, which is why it should be seen as an absolutely strategic point for the country".