Luís Onofre is one of the top names in Portuguese footwear. He created a brand with international impact and, in this interview, provides some clues as to what the future of the industry might look like.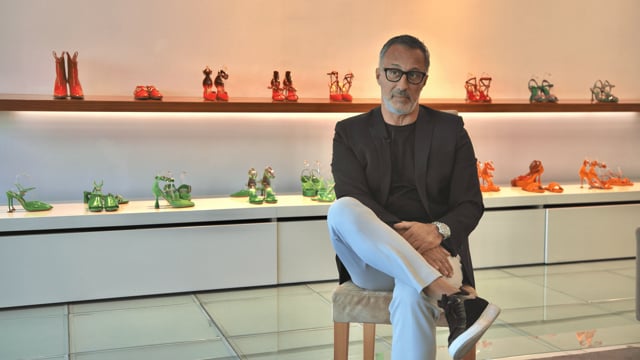 When talking about Portuguese footwear, we can't help but mention Luís Onofre. As well as being the creator of one of the most prestigious brands in the footwear sector, he is the president of APICCAPS - the Portuguese Footwear, Components and Leather Goods Manufacturers' Association.
When he founded Luís Onofre in 1999, his goal was "to create a luxury accessories brand with an international profile". Since then, the brand has made a commitment to quality and design that sets it apart in an extremely competitive market.
The numerous celebrities who wear Luís Onofre shoes include Queen Letizia of Spain, Michelle Obama, Paris Hilton and Penélope Cruz. The designer confesses that whenever he sees a woman wearing Luís Onofre shoes on the street, he feels "a strong emotion". He explains why: "Out of so many brands, she chose a pair of shoes that I designed. That's always incredible".


Shoemaking: a family tradition
Luís Onofre is the third generation of a family involved in footwear production. It was his grandmother Conceição Rosa Pereira who, in 1939, founded the factory that today is called Luís Onofre International.

The businessman reveals that when he was a teenager, footwear was not his passion. He studied Fine Arts in Porto and wanted to be an interior designer. It was after a few conversations with his father that he decided to put his creativity to the test in the family business.

After finishing a shoe and accessory styling course in São João da Madeira, he completely fell in love with the process of shoemaking. Even today, his greatest sources of inspiration are "discovering materials, new solutions and techniques".


The quality of Portuguese footwear is a benchmark in the international market
Luis Onofre has no doubt that "there is a greater demand for brands and Portuguese footwear".

The footwear industry has broken successive records in terms of exports. More than 95% of national production is exported and sales abroad have increased by more than 50% in the last decade alone.

"Our footwear is very high-quality. I dare say that it is in no way different from the quality footwear produced in Italy. But we still lack scale and brand tradition that can bring us international recognition," he explains.

Portugal has experienced the most growth in the footwear sector
The national footwear sector "has evolved enormously in recent years". The demand for Portuguese footwear has grown almost 30% worldwide and Portugal "has been the country that has grown the most in this sector," he says.

To get to where it is today, the identity and image of Portuguese footwear in foreign markets had to be developed.

The President of APICCAPS says that "we had many companies producing high quality shoes, but mostly for private labels. We lacked a brand culture, that is, the capacity to create brands with an international outlook that can compete in the same way in international markets. We don't have that scale yet, but I think we are on the right track. Today, we produce footwear whose average price is nearly equivalent in quality and positioning to Italian footwear", he underlines.


Showing the world what makes our footwear unique
For more than 10 years, APICCAPS has been running an international promotion campaign for Portuguese footwear, under the banner of Portuguese Shoes.

Luís Onofre believes that "we have managed to create a very important and world-renowned made in ". However, showing what we do best in this sector "is an investment that will always be unfinished, because promoting a country's image is a never-ending story".

The next step will be to work towards having more brands that are implanted at a worldwide level. "That will probably be the hardest part," he confesses, "but I think it's possible.

"I've been at this for almost 22 years, always aiming to get us to the highest level on a global scale. It has been difficult, and there have been many battles, mainly for the 'made in' which I think has now been won, and with that, my generation will have planted the seed. We'll see if we harvest the fruits soon", he says.

Portuguese footwear is committed to innovation and sustainability 
Design, innovation and sustainability are some of the features that define Portuguese footwear. The sector is increasingly becoming an international benchmark for the development of sustainable solutions, specially in the use of biomaterials, technologies and innovative products with low environmental impact.

Going green, respecting the environment and reducing air emissions are all part of the sector's commitments. At the same time, it aims to boost the range of Portuguese footwear companies "by strengthening their ability to manufacture medium and large orders by using more efficient assembly processes".

A new decade "of growth in foreign markets", eco-friendly footwear, creativity and innovation is what 'made in Portugal' footwear will continue to offer to all those who choose to use it.