As the city's trendiest quarter, the Porto Art District is a mandatory stop on the international art circuit.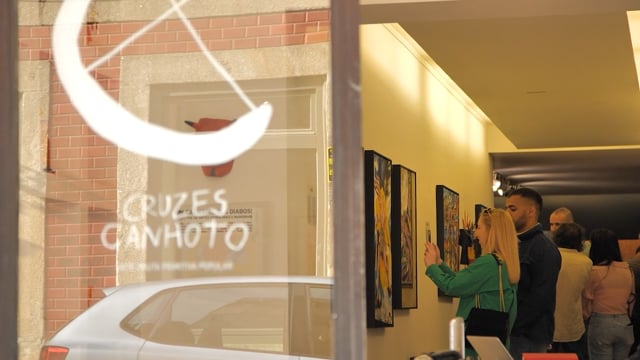 Porto is a city of many layers. From its hard granite to its fragile tiles, you can sense history, innovation and art. So, when you arrive at the
Quarteirão da Rua Miguel Bombarda
, also known as the Porto Art District, or simply
Quarteirão das Artes
, you are immediately immersed in art and culture.
Its unique atmosphere, imbued with passion and creativity, is impossible to ignore. Here several contemporary art galleries have joined together to work side by side with traditional retail, design shops, cafés, restaurants and various other independent projects. Urban art also has great relevance in this Quarter, since it was here in 2013 that the artists Mesk, Fedor and Mots created the first legalised mural in the so-called 'Invincible City' - "Don Quixote and Sancho Panza".
Porto Art District: how it all began

A Galeria Fernando Santos que conta já com quase três décadas de existência, foi a primeira The Fernando Santos Gallery, which has now been open for almost three decades, was the first to be established in Rua Miguel Bombarda. Soon after, other galleries followed suit. The Quadrado Azul Gallery, one of the first contemporary art spaces in the city, which at the time was looking for "a larger space with better conditions to host exhibitions", moved to the arts quarter in 1996.

The gallery owner, Gustavo Carneiro, has no doubt that the whole movement that slowly took over the Quarter was born "naturally". Nothing was planned, stresses gallery owner Fernando Santos, recalling that at a certain point there were "around 15 galleries in Rua Miguel Bombarda and all engaged in quite intense activity", transforming the street into "a benchmark for the arts in Portugal". 


A fascinating destination for artists and collectors
The beauty of the 'Invincible City', its proximity to the sea and the Douro River, combined with a fascinating mix of people, cultural traditions, art, gastronomy and a more affordable cost of living when compared to other European cities, make Porto an extremely appealing location. 

The city has been part of the contemporary art collectors' and appreciators' circuit for quite some time. However, the art scene became even more internationalised with the Porto Art District and its main cultural promoters, the gallerists.

Nuno Centeno, who in 2016 was named by the digital platform Artnet as one of Europe's top ten gallerists, and in 2018 one of the art world's inspiring young people under 40 for Apollo International Art Magazine, is in no doubt: "More and more doors are opening to Portugal", he says, emphasising that "we are privileged, because there is enormous interest in our country, in the cities of Porto and Lisbon and our artists. Foreigners who move to Portugal want to know what art is being made in Portugal. This is the time for internationalisation".


Galleries bet on renowned and emerging artists, both national and international
Para além de um trabalho de paixão, esta é também uma atividade de resiliência, de investimento, de uma pulsão incontrolável, que tanto apresenta obras de reputados artistas nacionais e estrangeiros, como aposta em novos valores, promessas feitas realidade na arte portuguesa. As well as being a work of passion, this is also an activity borne of resilience and investment, an uncontrollable drive to present works by reputed national and foreign artists and to commit to new values: promises made reality in Portuguese art. 

Gustavo Carneiro, from Quadrado Azul, recalls that when the gallery opened to the public, "there were many artists who had just graduated with Fine Art degrees, but there were no art galleries to show their work". For this reason, Quadrado Azul also continues to represent the next generation of artists.

Being at the forefront of contemporary art has also been Fernando Santos' aim, and in his gallery, he has represented "not only the best national artists, but also great names in international art". Tàpies, Julian Schnabel, Nikias Skapinakis, Pedro Cabrita Reis, Ray Smith, Richie Culver and Ana Vidigal are some of the many names that can be found in the Porto gallery's portfolio.

Representing national and foreign, emerging and established artists has also been a focus of the Nuno Centeno Gallery, which is currently working with more artists outside of Portugal. The reason given by Nuno Centeno is simple: they are the ones he would like to see in Portugal if he were attending galleries.


Contemporary artists with recognised talent

Nuno Centeno, who has also been awarded for the best stand at Frieze, in New York, believes that the work created by national artists "is attractive" and recognises that "some promotional work has been done, with the State providing support for several artists". But for this gallerist, the most important thing "is the path that artists and their galleries can take in a more independent way by creating their own circuits", since galleries are also businesses.

Fernando Santos is equally categorical when he states that "we have very good artists" and Gustavo Carneiro recalls that Portuguese art has been well accepted abroad. This is, in fact, the reason why there are several Portuguese artists with work exhibited "not only in Europe, but also in the United States of America, or in Japan", he adds.


Portuguese artists beyond borders
For many galleries, participating in fairs has become essential to promote and publicise their artists to an international audience.

Fernando Santos already has 30 years' experience in international trade fairs in his portfolio. The gallerist says that this presence aims to "give visibility to our artists" and, of course, to sell. However, he confesses that these events require "a great economic effort".

For 15 years, Nuno Centeno has participated in practically all international fairs and says that the results "are good, but uneven. It pays for the branding of the gallery, the visibility of the brand and a good network for the associated artists".

Nowadays, the gallerist believes that "it no longer makes sense to participate in fairs if the artists are not collaborative, or at least sensitive to the gallery's investment. At the end of the day, it's their creative content that's being promoted". For the son of the renowned artist Sobral Centeno, the best results in terms of visibility and profit that he has observed "are the financial collaborations in which both artist and gallery participate".

Gustavo Carneiro, in turn, believes that "when we seek growth, there is always the need not to stay in the same place". Therefore, he adds, "taking national artists out there ends up like going through a door. Often the artist has a lot of quality, but if they are not seen, they end up going unnoticed". This is the reason why a core feature of the Quadrado Azul project continues to be participation in fairs and similar events in countries such as Spain, Germany, Switzerland and Belgium.


The relationship between the gallery and the artist
Naturally, the relationship between the gallery owner and the artist is not without tension. The act of creation is very particular, but the act of selling or promoting the product also has its specificities. When interacting with the artist, Gustavo Carneiro tries to "know the artist's work, to understand the artist", as he believes that "you have to know the artist in order to know how they think". Then it is important to understand "what is the relationship of the work to the artist and the circumstances in which it was created. By understanding these premises, we will like a given work more or less," he explains.

When it comes to the selection of a particular artist, Gustavo Carneiro recalls that each one "ends up being a particular case" and explains that there are situations in which it is the gallery that invites the artist and situations in which it is the artists who make the suggestion. There are also those artists who are recommended by a colleague, a curator or an institution.

Nuno Centeno, in turn, says that he increasingly chooses artists by their profile and not by their work, because, he points out, "anyone can do good art. Visually and conceptually it is easy. But knowing who the person is, what their story is and what they want to tell is something greater". The gallerist says his interest lies "in the mindset associated with producing an artistic approach that might be interesting for today. Each artist has a story to tell and their story may even be the deconstruction of a story". 

For Fernando Santos, representing an artist entails an identification with them, as in order to recommend a work to the collector, "we have to believe in it". The gallery owner, who began his activity at the Amadeo de Souza-Cardoso Museum, explains that the artist's relationship with the gallery is one of "work and friendship", and reminds us that when the gallery proposes the purchase of a particular work, what it is proposing is, in fact, a good investment.


Simultaneous openings: a worthwhile visit 

If you want to accept Fernando Santos' suggestion and make an investment in a work of art, or if you simply want to join the social and cultural movement that has developed in Rua das Galerias de Arte, an excellent time to do so is during the simultaneous openings that take place every two months. There are always plenty of street entertainment, exhibitions, concerts, workshops and guided tours going on. Don't miss the opportunity to visit the Porto Art District!